Emergency First Response course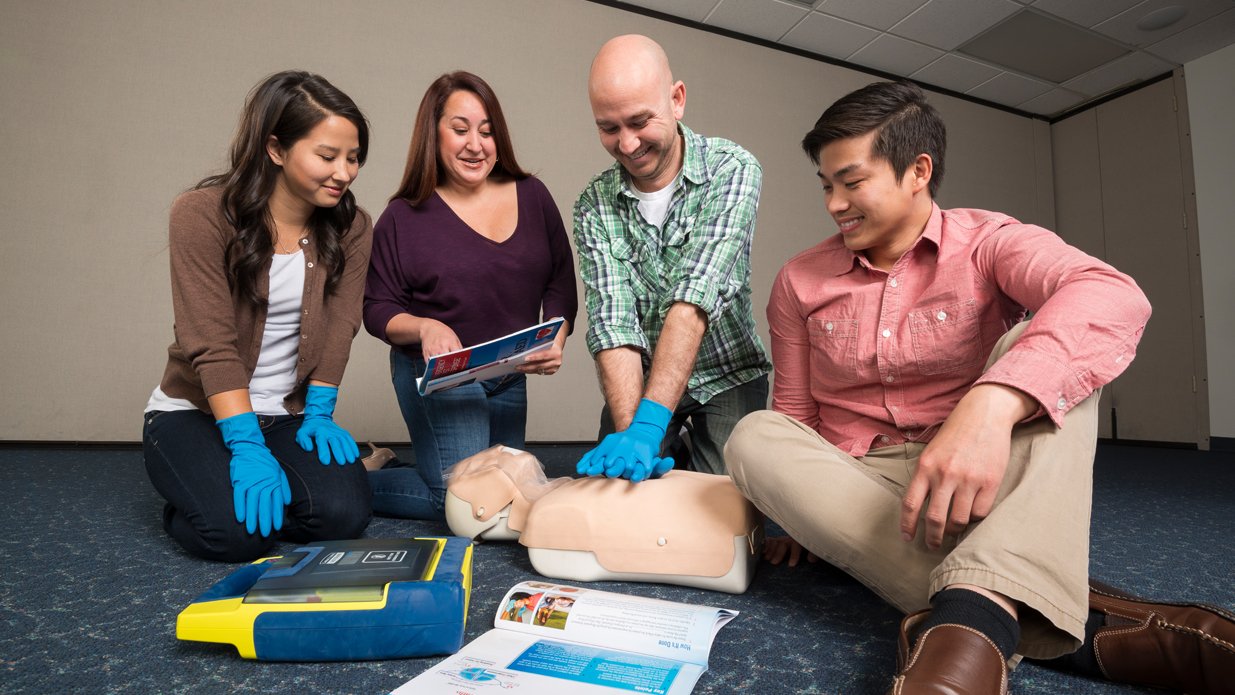 CPR & First Aid courses build confidence and increases your willingness to respond in a medical emergency. You will learn to follow simple steps for emergency care. All courses are supported by self-study manuals and videos.
Our CPR and first aid training meets the requirements for the PADI Rescue Diver course and all professional-level ratings.
Most PADI Instructors are also Emergency First Response Instructors.
The Emergency first response course takes 1 day to complete in our classroom. The price is 130€ for one person. The price includes the PADI Manual & Certificate. 
Food and beverages on board: Lunch, Coffee, Tea, Water & Soft drinks are included
Dive instructor :Yes
Transfer:
For hotels inside Hurghada, Transfer from/to Hotel is free of charge.
For Hotels in Makadi Bay, Soma Bay, Sahl Hasheesh and El Gouna, Transfer from /To Hotel is for a surcharge of €5 per day per pax.
PADI Emergency First Response, commonly known as PADI EFR, is a comprehensive training program designed to equip divers, and even non-divers, with essential emergency care skills. This program is based on internationally recognized medical guidelines, making it a crucial part of your diving journey.
1. Understanding the PADI EFR
PADI Emergency First Response is structured into two key segments: Primary Care (CPR) and Secondary Care (First Aid). Both aspects are vital in responding effectively to medical emergencies, and the course is designed to build confidence in lay rescuers, increasing their willingness to respond in a medical emergency.
2. Primary and Secondary Care Training
Primary Care (CPR)
This part of the PADI EFR focuses on handling life-threatening emergencies. It involves practical training on 8 essential skills such as administering CPR, handling potential spinal injuries, and managing patients who may be in shock or have severe bleeding.
Secondary Care (First Aid)
While Primary Care deals with immediate, life-threatening situations, Secondary Care covers scenarios where medical help may be delayed or unavailable. This training teaches you to provide first aid, ease pain and minimize the risk of further harm.
3. The EFR Learning Process
The learning process for the PADI EFR is flexible and accommodating, allowing learners to progress at their own pace. Here's a typical learning flow:
Independent Study: This involves online self-study using PADI eLearning. You can study online or offline, watching videos of different first aid techniques and learning what steps to take in an emergency.
Practical Training with an Instructor: This is where you get hands-on experience, learning key skills like administering CPR, bandaging, and splinting. You'll also have the chance to apply your newly acquired skills in role-playing scenarios.
4. Additional EFR Training
Beyond primary and secondary care, your EFR instructor can also train you on how to provide CPR and first aid for children and infants, or how to use an Automated External Defibrillator (AED).
5. Benefits of EFR Training
PADI EFR training doesn't just equip you with crucial life-saving skills; it also builds your confidence, making you more likely to respond effectively in a medical emergency. Furthermore, EFR courses meet the CPR and first aid training requirements for the PADI Rescue Diver course and all professional-level ratings.
6. CPR and First Aid Tips
Apart from formal training, it's beneficial to keep refreshing your knowledge and skills. A few tips to remember include:
Identifying stroke symptoms quickly using the FAST quiz
Knowing what to do and what not to do when performing CPR and first aid
Making first aid and CPR training a family affair
7. Diving Courses in Hurghada
If you're looking to take your PADI EFR course in an exciting location, consider diving courses in Hurghada. This Egyptian city is renowned for its vibrant marine life and beautiful coral reefs, making it a perfect spot for diving in Hurghada.
8. Conclusion: Why You Should Take the PADI EFR
PADI Emergency First Response training is not just for divers; it's for anyone who wants to be prepared to help in a medical emergency. The skills you acquire can make a significant difference in a life-or-death situation, making EFR training truly invaluable.
Want To Learn More About Our Services?
we offer wide variety of diving courses and trips, check them out by clicking the button below