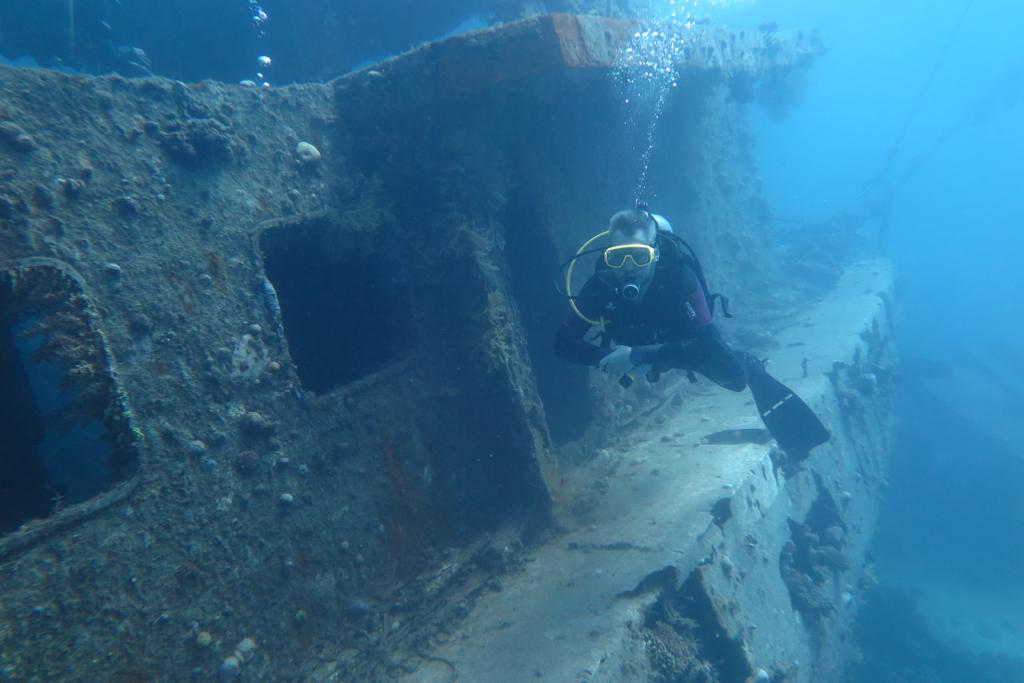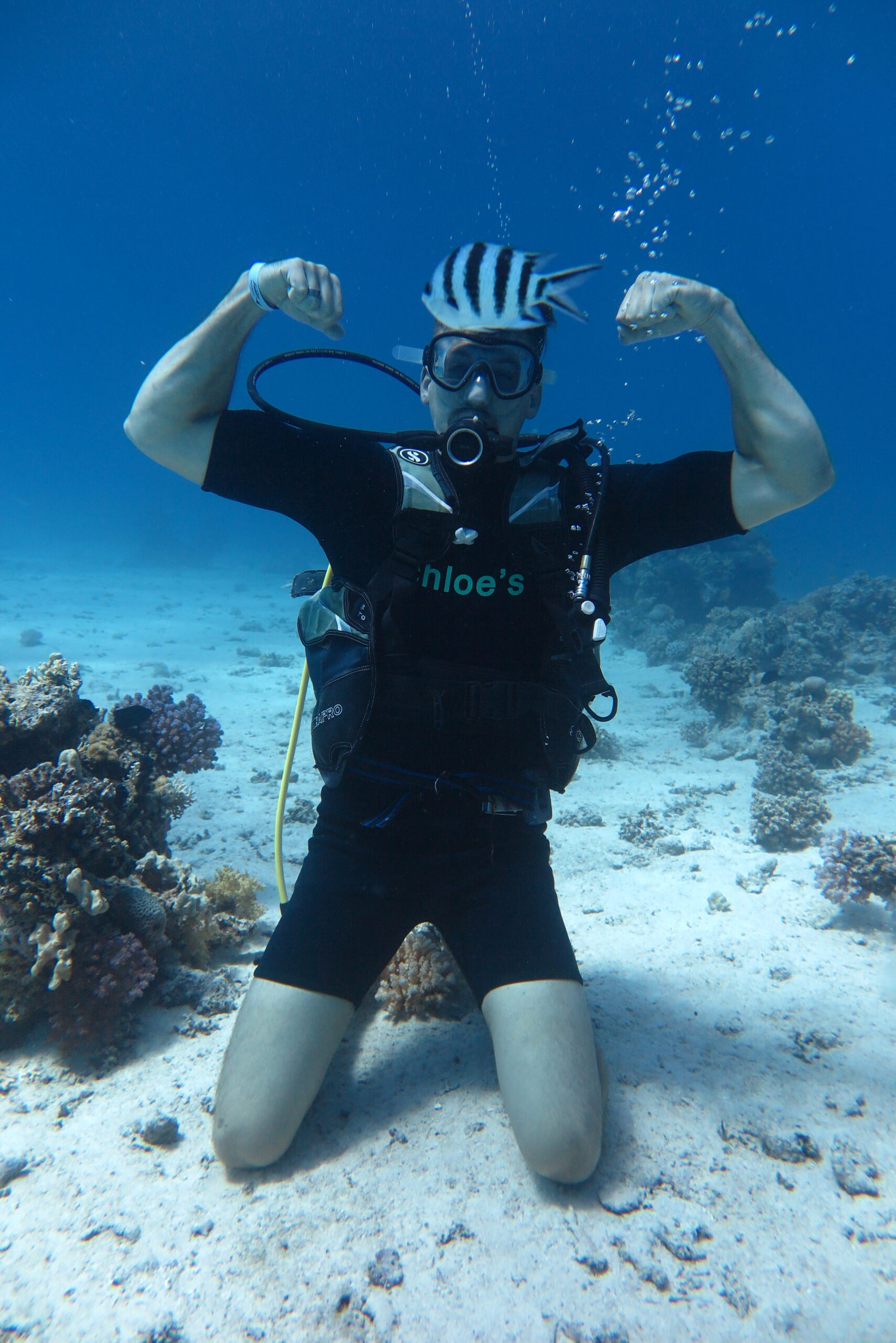 During the PADI Divemaster course you will learn about supervising certified divers, assisting with students, risk management, the physiology of diving, dive equipment, the physics of diving, decompression theory, the recreational dive planner, diving skills, the underwater environment and how to independently conduct certain PADI programs and courses.
The PADI divenaster course takes 15 days to complete. The price is 700€ for one person. PADI Manual/Sticker/Fees price is €175.
Food and beverages on board: Lunch, Coffee, Tea, Water & Soft drinks are included
Dive equipment :Yes
Dive instructor :Yes
Transfer:
For hotels inside Hurghada, Transfer from/to Hotel is free of charge.
For Hotels in Makadi Bay, Soma Bay, Sahl Hasheesh and El Gouna, Transfer from /To Hotel is for a surcharge of €5 per day per pax.
Are you a diving enthusiast, considering taking your passion to the next level with the Padi Divemaster Course? This comprehensive guide is here to answer all your questions and help you make an informed decision. Let's dive in!
1. Introduction to the Padi Divemaster Course
The Padi Divemaster Course is the first step into the professional world of scuba diving. As a certified divemaster, you become a mentor and a leader, supervising scuba diving activities and assisting with diver training. If you're over 18 and a certified Padi Rescue Diver you're eligible to enroll in this course.
This course is about more than just diving a lot. It's about sharing the joy of diving with others, helping them have as much fun under the water as you do.
2. What Can Divemasters Do?
As a certified Padi Divemaster, you can:
Assist certified Padi Instructors with training and non-training diving activities
Guide certified scuba divers on fun dives
Lead Discover Local Diving programs
Assist with Discover Scuba Diving programs
Conduct the Padi ReActivate reactivate scuba refresher program
Teach Discover Snorkeling and Padi Advanced Snorkeler
Organize and lead conservation activities
With additional training, you can also work as equipment repair techs, deck hands, become boat captains, and more.
3. The Journey to Becoming a Divemaster
The Padi Divemaster Course can take anywhere from two weeks to six months to complete, depending on your commitment and the schedule of the dive center where you're getting certified. The course includes knowledge development sessions, waterskills exercises, and workshops, as well as hands-on practical assessments.
The course begins with a minimum of 40 logged dives. Candidates are required to have completed valid CPR and first aid training within 24 months of starting the course and have received medical clearance to dive. By the end of the course, you should have at least 60 logged dives to earn certification.
4. The Divemaster Course Outline
The Padi Divemaster Course covers a range of theoretical and practical skills that you'll need as a professional diver. Let's go over the various components of the course.
4.1 Theory
The theory portion of the Divemaster course starts with refreshing and building upon what you've learned in your previous diving courses. You'll study the physics of diving, decompression theory, dive-related first aid, and the underwater environment. You'll also create an Emergency Action Plan (EAP) to understand what's required of you in an emergency situation.
4.2 Water Skills
The water skills portion of the course includes a swim test, equipment exchange with a buddy, and mastery of various diving skills. You'll be tested on your ability to tread water unaided for 15 minutes, swim 400 meters, snorkel 800 meters, and tow a tired diver for 100 meters. Your ability to demonstrate these skills slowly and clearly will be assessed.
4.3 Skill Circuits and Rescue Assessment
In addition to the water skills, you'll be assessed on your ability to demonstrate a variety of diving skills to a high standard. This includes mask removal and replacement, regulator recovery, deep water entry, and emergency air sharing. You'll also have to refresh your rescue skills and demonstrate that you can successfully rescue an unconscious diver.
4.4 Practical Skills
The practical portion of the course involves setting up and managing a dive site, conducting dive briefings, and organizing a search and recovery project. You'll also be required to map an open water site and assist in real-life student diver situations. These practical skills will equip you to join any dive boat or dive center around the world with confidence.
5. Divemaster-led Workshops
As part of the Divemaster course, you will participate in workshop scenarios where you'll conduct mock dives and guide certified divers. You'll also supervise snorkelling activities and assess and refresh the skills of already certified divers.
6. Divemaster Assessments
To pass the Divemaster course, you'll need to assist instructors with real-life student divers. This will involve assisting on a variety of courses, from brand new Open Water divers to Advanced courses. The goal here is to help students overcome specific problems underwater.
7. The Padi Divemaster Swim Test
The Padi Divemaster course includes a swim test that assesses your swimming capabilities. The test consists of three swimming assessments and one treading water exercise. The swim test requires you to swim 400 meters nonstop without swimming aids, swim 800 meters face down using mask, snorkel, and fins only, and tow or push a diver for 100 meters nonstop at the surface without assistance. You'll also need to tread water, drown-proof, bob or float using no aids for 15 minutes.
8. Divemaster vs Master Scuba Diver
Many divers often get confused between a Divemaster and a Master Scuba Diver. While the Padi Master Scuba rating denotes outstanding levels of training and experience, it doesn't qualify someone to work in the diving industry. On the other hand, a Divemaster is the first professional step and a prerequisite to becoming a scuba instructor.
9. Choosing a Dive Center for Your Divemaster Training
When choosing a dive center for your Divemaster training, there are several factors to consider. You'll want to think about whether you plan to work as a divemaster and where you'd like to do that. You'll also need to consider any schedule limitations you might have.
10. Diving in Hurghada
One popular destination for taking the Padi Divemaster Course is in Hurghada, a city known for its clear water and vibrant coral reefs. Diving in Hurghada offers the opportunity to explore a wide variety of marine life, making it an ideal place to develop your diving skills and gain the experience you need to become a professional diver.
The Padi Divemaster Course is a step into the world of professional diving. It not only allows you to dive more but also enables you to share the joy of diving with others. So if you're passionate about diving and want to take your hobby to the next level, consider enrolling in the Padi Divemaster Course. The adventure of a lifetime awaits you!
Want To Learn More About Our Services?
we offer wide variety of diving courses and trips, check them out by clicking the button below