Introductory Diving In Hurghada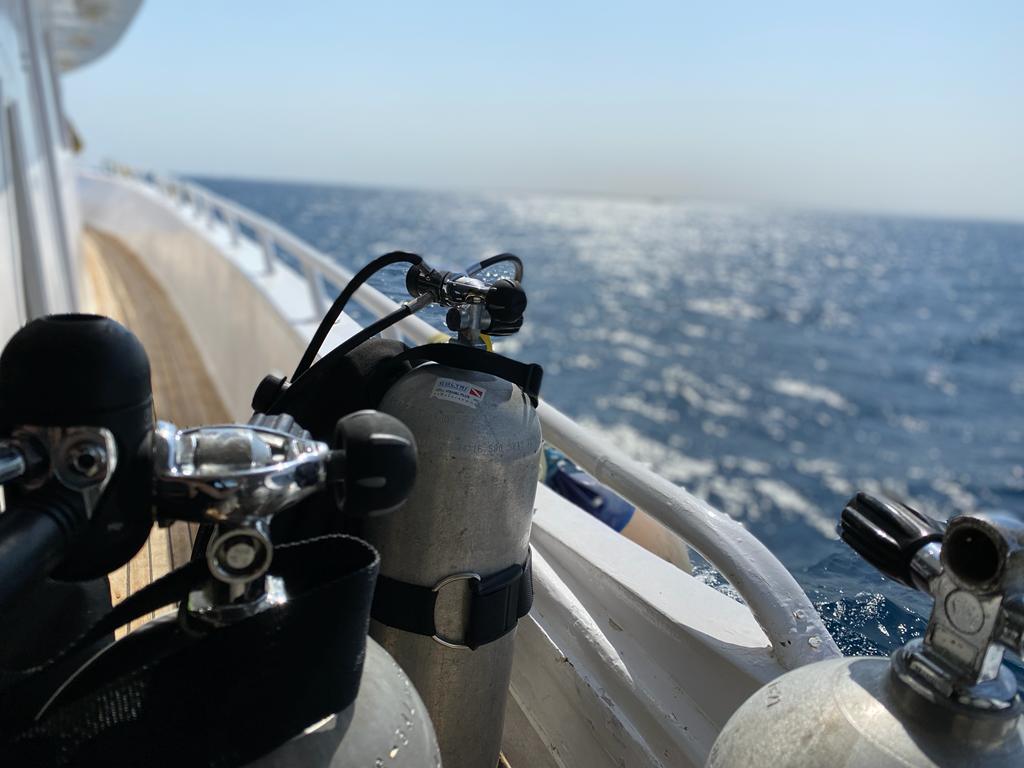 Always wanted to try Scuba Diving, but you're not sure it is for you? It takes just half a day to discover if scuba diving is right sport for you! We'll explain the basics of what you need to know, and our instructor will guide you and make you disocver the underwater world of hurghada! 
The introduction dive trip usually takes from 7 – 9 hours depends on the dive location we're going to visit on the specific day. You'll have two dives each day.
The price is €60 per person per day not including daily taxation of €5 per day per person.
Food and beverages on board: Lunch, Coffee, Tea, Water & Soft drinks are included
Dive equipment :Yes
Dive instructor :Yes
Transfer:
For hotels inside Hurghada, Transfer from/to Hotel is free of charge.
For Hotels in Makadi Bay, Soma Bay, Sahl Hasheesh and El Gouna, Transfer from /To Hotel is for a surcharge of €5 per day per pax.
Have you ever wondered what lies beneath the surface of the ocean? Or yearned to explore the vibrant, aquatic world that's so different from our own? If so, introductory diving could be your gateway to a thrilling new experience. Dive into this guide and learn all you need to know about introductory diving and how you can embark on this underwater adventure with Chloe's Diving Center—the finest diving center in Hurghada.
What is Introductory Diving?
Introductory diving, often termed as intro diving, trial diving, or resort diving, is the perfect way for beginners to experience the unfamiliar, underwater realm. It allows individuals without any formal diver training or certification to try out scuba diving under the supervision of a trained diving instructor.
Introductory diving isn't just a fun pastime. It's an opportunity for interested individuals to decide whether they'd like to invest more time and resources into scuba diving. Not only is it less time-consuming and costly than completing an autonomous diver training, but it also allows dive shops to introduce and attract potential customers to the world of recreational diving.
The Introductory Diving Experience: What to Expect
If you're interested in experiencing the underwater world, but unsure if you want to enroll in a scuba certification class, an introductory diving experience is the perfect way to test the waters. Let's dive into what you can expect during an intro diving program!
Preparing for the Dive
Participants are typically required to read and sign waivers to minimize the liability of the program provider. You'll also provide a declaration stating that you do not suffer from any medical conditions that may pose an unacceptable risk for diving.
You will be provided with all necessary diving equipment, and an instructor will teach you essential theoretical knowledge, so you can dive with a low level of risk, and with informed consent. These preliminary steps are crucial for the safety of the participants.
In-water Training
Once you are geared up, you will enter the water under close supervision of the instructor. You'll first practice breathing with a scuba regulator at the water surface. At a shallow depth, you'll learn to clear your diving mask, remove and replace your regulator, and clear it of water.
These skills are essential for ensuring your safety underwater. Following this, you'll have the chance to engage in underwater games or explore the surroundings in shallow water. An introductory diving experience typically takes about two to four hours.
Dive Locations
Typically, an intro dive first takes place in confined water, like a swimming pool or a very shallow and safe place in a lake or the sea. Depending on the offer, after the first dive in confined water, a second or further shallow dives may be conducted in suitable confined or open water.
Altitude and Flying after Diving
While you can directly go from a high altitude to scuba diving, you should not scuba dive and then ascend to a higher altitude without allowing an interval. This pause is necessary to reduce the risk of decompression sickness.
Qualifications for Introductory Diving
While there is no prerequisite certification or training required for introductory diving, certain criteria need to be met. Introductory divers must be medically fit and able to swim a minimum distance without any buoyancy aid. The minimum age for participation varies among different diving schools. Most commonly, intro dive participants must be at least 8 to 14 years old.
Diving in Hurghada with Chloe's Diving Center
Chloe's Diving Center in Hurghada offers an array of diving trips in Hurghada, including introductory diving experiences. With us, you can expect a comprehensive and safe introduction to the captivating underwater world. We provide all necessary equipment and guidance to ensure you have a memorable diving experience.
Introductory diving is a unique opportunity for anyone intrigued by the underwater world. Whether you're a curious beginner or an experienced diver looking to explore new techniques, it offers an accessible and enjoyable way to dive into the depths of the ocean. So, why wait? Embark on an introductory diving adventure with Chloe's Diving Center in Hurghada and uncover the mysteries that lie beneath the surface!
Want To Learn More About Our Services?
we offer wide variety of diving courses and trips, check them out by clicking the button below